Benin, Togo, and Ghana Tours
West Africa's Premier Travel Company
Building schools, protecting rainforests, having a sustainable positive impact locally.
Benin
Population – 12,123,529
Language – French
Currency – West African CFA
Time Zone – WA Standard
Capital – Porto-Novo
Historically known as the Kingdom of Dahomey, Benin a former French colony that gained independence in 1960 is without doubt one of the most fascinating countries to visit in West Africa.
Benin's ethnic diversity is evident with the main population being made up Fon, followed by Yoruba, Bariba and Fulani all adding so much to the exceptional cultural experience travellers encounter. Christianity and Islam have been introduced to Benin over the centuries, however most locals here still practice Vodun, more commonly known globally as Voodoo. Most of the population live in the southern part of Benin known as the slave coast due to its historical significance during the Transatlantic slave trade era. Visiting the museums, monuments and historical sites connected to the dark colonial past is interesting and emotional for many travellers, for those more adventurous and with more time to explore the journey to the north is a major highlight. Passing through the birthplace of Voodoo immersing ourselves in this spiritual religion, taking a pirogue to see the Venice of West Africa at Ganvie and exploring the underground dwellings at Agongointo. Venturing north through the stunning landscape to meet the Tammari people in Tata Somba and their ancient fortified traditional houses before vising West Africa's premier game viewing park Pendjari where we walk with elephants and search for the endangered West African Lions makes Benin a must visit destination for the inquisitive traveller.
Zoom in to see where your trip will take you in Benin
Our tours of Benin operate year-round, however the dry season here in Benin is from November to April which is the most popular time to travel. Travelling during our rainy season is also not a problem and we are rarely disrupted by the rains.
Discover Benin with Ashanti African Tours
Our Price Promise
If you receive cheaper quotes from other legitimate companies, we will try to match or improve the price for the exact same tour package offered.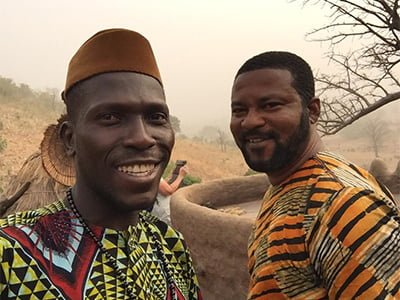 Award-winning Local Guides
Our passion is to create the best overall experience for our guests during their time touring with us.
One of the key components to achieving this is the local expert guide assigned to lead your tour. Here at Ashanti we are lucky to have highly educated, passionate, personable, fun, friendly and professional local award-winning guides working with us on a full-time basis. Local guides with personal connections to the locations you visit, opens doors and experiences that add so much more to your overall experience during your time with us. Our team are excited to welcome you to West Africa.
For more information on our Award-winning Local Guides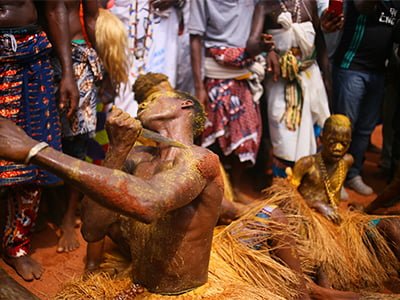 Benin Cultural and Historical Tours
Benin located in the heart of West Africa has an interesting diverse history and culture waiting to be explored.
If history is your wish then the museums, monuments, and sites of interest along the southern coastal areas offer an in-depth insight into Benin's past. Cultural exploration is a must and depending on how long you have to dedicate to discovering Benin the options are endless from the Venice of West Africa at Ganvie to the Kingdom of Abomey, the underground community of Agongointo and the ancient fortified houses of the Tammari people in Tata Somba. Our tours are customized to maximize your enjoyment focussing on your exact areas of interest during your time with us. Ashanti's experienced team can incorporate other areas of interest like beach relaxation, wildlife viewing or hiking, most things are possible so contact us and let's get started on planning that trip of a lifetime.
For more information, itineraries and prices for our Benin Cultural and Historical Tours
Our small group all-inclusive scheduled tours operate year-round, alternatively we can design private customized tours for individuals, couples, families, small or large groups
Benin, Togo and Ghana Tours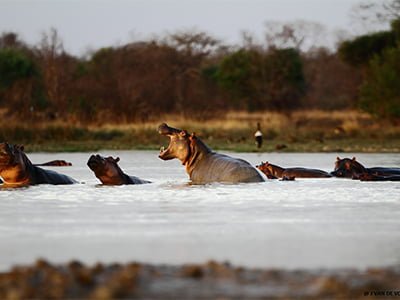 The perfect country to visit if you are looking to experience the best of West African wildlife as we dedicate our time at Pendjari National Park.
Pendjari National Park is the best game viewing location here in West Africa and the only place you have a good opportunity of seeing the endangered West African Lions. Nature is in abundance as we walk with elephants, track leopards, witness large herds of African buffalo, hippopotamus and if we are lucky the now rare cheetah could also be seen. Antelope species are in abundance here and the birdlife is exceptional with key specie Pel's Fishing Owl, Standard-winged nightjar and Rufous-rumped Lark regularly seen. Stunning landscapes await and we can customize tailor-made itineraries to incorporate other areas of interest like culture, hiking and history.
For more information, itineraries and prices for our Benin Wildlife Tours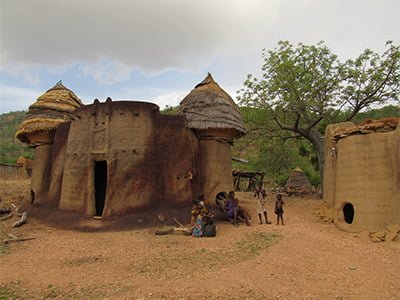 A journey of discovery as we immerse ourselves into the cultural traditions and daily way of life for the many ethnic groups we encounter during our fantastic Benin and Togo Tours.
Explore the spiritual religion of Voodoo during our time in its birthplace Ouidah, take a traditional pirogue through the Venice of West Africa Ganvie, search for the endangered West African Lions in Pendjari and discover the ancient traditional people of Tata Somba. The outstanding landscapes of the north and trekking the hills of central Togo passing remote communities and enjoying nature at every point makes for an exceptional expedition of discovery. Contact us for customized tailor-made tours of any duration and to incorporate other areas of interest you may have.
For more information, itineraries and prices for our Togo and Benin Tours
Booking a tour with us makes you an important part of our positive impact projects, having the option to visit and meet the locals benefitting from your booking is also a special moment for many of our participants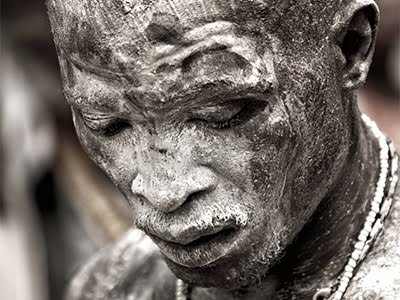 Benin, Togo, and Ghana Tours
Nestled closely together in the heart of West Africa, offering such diverse cultures and traditions each with distinct historical pasts and varied wildlife makes a multi country tour of Benin, Togo, and Ghana the perfect way to experience West Africa.
From the legacies of the Ashanti's to the spiritual experience of Voodoo and the endangered West African Lions to the Venice of Africa at Ganvie, these tours offer the inquisitive traveller all they need and more from their West African adventure. Take an emotional journey through the tragic slave trade era, learning the impact of the dark colonial past and immerse ourselves in the colourful diverse culture of the north whilst visiting UNESCO World heritage sites at Koutammakou. Dancing horses in northern Togo and walking with elephants at West Africa's best game viewing park in Pendjari, these tours have it all and offer experiences that will last a lifetime. Contact us for customized tailor-made tours of any duration and to incorporate other areas of interest you may have.
For more information, itineraries and prices for our Benin, Togo, and Ghana Tours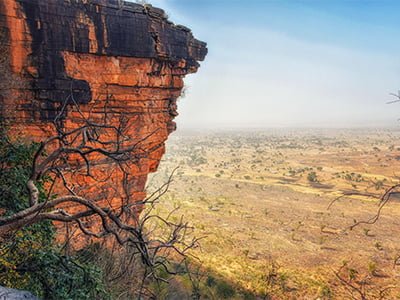 Customized Tailor-made Benin, Togo, and Ghana Tours
Ashanti's strength is designing customized tailor-made tours incorporating any areas of interest you may have.
If you are an educator, solo traveller, couple, family, friends, small or large group or even a travel agent arranging a private group then allow our experienced team to design that perfect trip focused on the exact areas important to you. Organizing specific wildlife excursions, voluntary work, craft workshops, educational institutions, visiting friends, festivals or personal locations of interest, nothing is beyond our capabilities as this is an area, we are highly experience in. Having so many local guides experts in such a wide range of areas enables us to offer a varied tour portfolio. Tours of any duration and to fit all budgets ensuring the perfect combination for you.
For more information, itineraries and prices for our Customized Tailor-made Benin, Togo, and Ghana Tours
Exceptional West African travel experiences that have a real sustainable impact in the locations and communities we visit
Benin Visas
All nationalities, except Beninese and members of the ECOWAS community, need a visa for entry into Benin. Visa fees and requirements often change without travel industry being notified so to ensure you have up to date information please follow the below links where you will be able to download applications and follow the process to apply for your visa.
United Kingdom applicants – www.benin.embassyhomepage.com
United States of America applicants – www.beninembassy.us
German applicants – www.ambassade-benin.de
Belgium applicants – www.ambassadebenin.be
France – www.embassies.info/BenineseEmbassyinParisFrance
For information and links to all other Benin Embassies, Consulates and High Commissions for visa applications and other services please follow this link – www.embassies.info/benin
In the unlikely event there is no Benin Embassy or consulate in your home country to enable you to obtain a visa, please check www.ivisa.com to see if your country qualifies for an e-visa if your country does not qualify then it may be possible to obtain a visa at the airport and borders of Benin, please check this before booking your holiday and be aware this method will be more expensive.
Benin Weather and Climate
The warmest months are February and March and the coolest are August to early September. Seasonal changes are different from those of North America and Europe, due to its proximity to the Equator. Benin's temperature is reasonably consistent. The rainy season is from May to October. Most of the southern sector has two periods of rainfalls, a major one from mid-May to mid-July and a minor one from September to mid-October. The northern sector has only one, from mid-May – August. From December to mid-January, the Harmattan winds blow from the Sahara Desert, causing very dry and hazy conditions in the north. This has little or no effect on visitors.
Guest Houses and Homestays
On some of our more adventurous Eco, Wildlife, Voluntary, Educational and Cultural tours in the more remote areas, local guesthouses are used and in some unique cases village homestays. Although these are more basic than hotels in larger communities, they are comfortable, clean, and safe. Staying in these types of accommodations brings us into closer and more intimate contact with the locals, their ways of life and fascinatingly, their wonderful unity.
Equipment and Clothing
Due to the wide variety of tours we offer, this information will be forwarded upon confirmation of your booking in your pre-trip information pack.
Tipping
All our company drivers, assistants and expert local guides are employed on full time contracts with Ashanti African Tours and receive a basic salary and daily bonus when on tour. Ashanti African Tours also have a company policy to tip all local site guides and hotel staff. Therefore, if any of our clients would like to tip any of our guides, site guides, drivers, or staff at hotels we use, it is at the client's own discretion.
Spending Money
The amount of spending money you will need is determined by the type of tour you have booked with us. The majority of our standard scheduled and customized tours are all-inclusive, so you only need to budget for the following: snacks, soft (not mineral water as this is always included) and alcoholic drinks and items of a personal nature. If you have booked a budget tour, then some aspects of the tour may not be included in the tour price and you will receive this information during your enquiry process.
Building schools, protecting rainforest, having a sustainable positive impact locally
Ashanti would like to think most international travellers coming to West Africa care about the locations they visit and about having a positive impact during their time here. Booking with a responsible travel company goes a long way to achieving this. Many companies state they benefit locals and conservation when they do extraordinarily little and are more focused on their profit margins. Ashanti are West Africa's leading travel company putting their profits back into building schools, protecting wildlife, rainforest, biodiversity and connecting communities to the conservation of their environment through community development initiatives connected to eco-tourism. Click to learn more about where our profits go.
Travel Insurance
You must ensure that you have adequate personal insurance cover for your trip. It is a compulsory requirement for all our trips in Benin and other African destinations and it is your responsibility to take out a suitable policy. You will not officially join our tours until evidence of your insurance has been provided to our office. This must include personal accident, medical expenses, and repatriation to your country of origin. We also strongly recommend that your policy covers cancellation, curtailment and loss of luggage and personal effects. Please note that free insurance cover offered by some credit cards does not cover repatriation expenses.
Hotel Accommodation
As most of our tours are customized tailor-made tours then your budget will determine the standard of accommodation at each location. Benin has a limited selection of hotels however there are some Luxury 5- and 4-star establishments, most are mid-range 2 to 3 star and there is a wide selection of clean and basic budget hotels. Our experienced tour planners will identify the best hotel to fit your budget in the right location. If you have booked onto one of our scheduled Benin tours, then we usually use quality mid-range hotels when available and all with private en suite facilities and air-conditioning. In some remote locations where these hotels are not available, we will use the best standard alternative.
Camping
On occasions during some of our more adventurous expeditions in more remote areas, we will camp. This is not for the duration of your entire tour, but for a couple of days where accommodation is unavailable. Camping is usually on a shared basis, but single occupancy tents are available when requested. Our experienced camping team are on hand to make the experience special. All meals are cooked by our team and are usually a mixture of ample and delicious Western and salivating authentic local dishes eaten around an open fire, the Beninese way for a memorable evening.
Immunisations and Vaccinations
You need to consult your doctor or travel clinic six to eight weeks prior to departure for extensive up to date information on foreign travel to West Africa.
Below is a guideline only:
Polio
Tetanus
Typhoid
Anti-malaria tablets (consult your chemist)
Hepatitis A
Meningitis
Yellow fever (you must carry a valid certificate with your passport)
Responsible Tourism
When you travel with Ashanti African Tours you can be assured that all trips are ethical and sustainable, as we put the environment and the communities at the heart of all that we do. As such, this policy draws on the criteria set out by the Global Sustainable Tourism Council (GSTC) and tries to recognise many of the principles within the United Nations World Tourism Organisation's (UNWTO) Global Code of Ethics for Tourism. All Ashanti African Tours trips aim to have a positive impact on the countries, communities, and environments we visit. Our policy of operating low-impact, ethical tours allows us to create authentic, cultural connections, which not only enhances the traveller experience, but also creates economic opportunity and social development, whilst preserving local cultures for future generations. For full detailed information on our company responsible travel policy please visit the Ethical Travel page of our website.
We Offset Your Trips Carbon Footprint
We plant 3 indigenous forest tree species for every person that travels with us. The main aim for this project is carbon offsetting – guests choosing to travel with us would offset their flights to/from West Africa by more than 15 times if the trees live to their expected lifespan. This is based on projected carbon dioxide generated on a return flight for the average guest (approximately 900kg/1980 lbs). The average tropical tree can absorb approximately 48lbs of carbon per year (when mature) and in West Africa it takes 30-50 years for a tropical tree species to grow to maturity, with an average life expectancy of 200-300 years. If the trees we plant for each guest are continued to be protected, then we are confident that we will be making a big difference in carbon offsetting: 3 trees planted would each absorb approximately 10,080 lbs of carbon, totalling 30,240 lbs/13,745 kg for all 3 trees (per guest).