West Africa's premier DMC
West Africa's Premier Travel Company
Building schools, protecting rainforests, having a sustainable positive impact locally.
Destination Management Company
West Africa's premier travel company that focus on quality service and the needs of our clients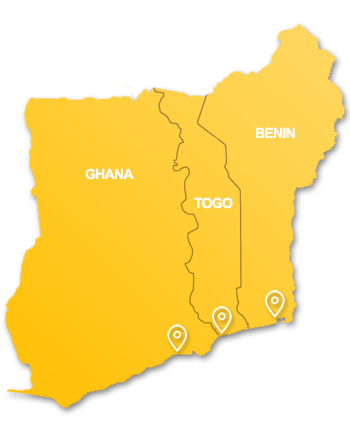 Ghana
Population – 31,038,800
Language – English
Currency – Ghanaian cedi
Time Zone – GMT
Capital – Accra
Togo
Population – 8,278,924
Language – French
Currency – West African CFA
Time Zone – East Africa Time
Capital – Lomé
Benin
Population – 12,123,529
Language – French
Currency – West African CFA
Time Zone – WA Standard
Capital – Porto-Novo
Although we are happy to be described by several of our international travel partners as one of the finest Destination Management Companies they use globally, we will never rest on our achievements.
Our team's objective is to always continue to improve the services we offer our partners here in West Africa. Our in-depth local knowledge ensures we continue to improve and adapt our services staying ahead of the curve and offering the best standards possible. Client confidentiality is paramount and we never discus our partners with third parties always listening to the requests and wishes of our clients enabling us to work with them to design itineraries, events and programmes that meet their exact needs. Our local experienced event and programme coordinators in addition to our award-winning tour leaders are carefully selected and receive regular training. Having so many local guides experts in all the flora, fauna history and culture of West Africa enables us to offer a wider portfolio of tour itineraries whilst ensuring the quality of service. Professional, personable, fun, and knowledgeable guides add so much more to your clients' experience during their time with us. Its is imperative you also ensure your local partner is insured locally to receive international tourists as this could render your own international insurance invalid. Ashanti hold all the required insurance policies and licenses to operate and receive tourists; our professional indemnity and public liability cover is the highest level available in West Africa.
Our Price Promise
If you receive cheaper quotes from other legitimate companies, we will try to match or improve the price for the exact same tour package offered.
Destination Management Company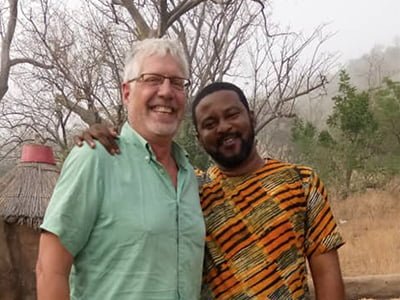 Employing over 20 local guides all experts in a multitude of areas from flora, fauna, history, and culture of West Africa enables us to offer a wider selection of professionally led tours than most other companies.
Our award-winning multi-lingual guides come from across West Africa and have personal connections to the locations we visit, enhancing our tour participants experience. Destinations we visit include Ghana, Togo, Benin, Liberia, Sierra Leone, Senegal, Sao Tome and Principe and tours can be customized to your client's preference. From luxury holidays to more adventurous expeditions our experienced tour planners tailor trips to your exact requirements. Professionally organised, expertly led award-winning tours in culture, history, heritage, wildlife, birdwatching, hiking, and walking, biking, photography, service trips and educational student travel in addition our team can customize tours in any other areas of interest.
For more information on the benefits of using Ashanti as your local DMC
Transportation and Logistics
Our extensive network of quality, well serviced and maintained vehicles are carefully selected to meet your exact needs.
If you require 4×4's for wildlife excursions, minibus, bus or larger coach for bigger groups we have what you need. Vehicles go through a standard safety check prior to the arrival of all our groups. Safety of the group is our priority and our experienced drivers are focused and do not take risks. Our experience and local knowledge in West Africa also ensure the logistics of the trip run smoothly, knowing drive times between locations of interest, selecting the best places to eat, identifying the right accommodation for your budget, assigning the most qualified guide for your group, arranging excursions, meetings and special events. Ensuring the smooth running of our trips is our job and we are good at it.
For more information on the benefits of using Ashanti as your local DMC
Destination Management Company
Choosing the best accommodation for your budget that is safe, ideally located and offering all the amenities for your group is important for the success of any trip.
Our team carefully select the accommodation that fits your needs, if you are looking for luxury boutique hotels or safe, clean budget accommodation we can secure these for you at good rates. Many years working with our service providers here in West Africa has allowed us to develop excellent relationships of trust. Prior to our groups arriving at their accommodations one of our team members would have already checked your rooms and started the check in process ensuring vital time is not wasted when checking in large groups.
For more information on the benefits of using Ashanti as your local DMC
Meetings and Special Event Planning
After listening to your aims and objectives for your groups trip to Ghana our team then start to make all the necessary arrangements locally for you.
Setting up meetings and arranging special events with government institutions, NGO's, educational institutions, industry, religious organisations or arranging classrooms for students, equipment and materials required for practical sessions are all our responsibility. Coordinating environmental and community service programmes is also an area we are highly experienced, and our company also have our own conservation and community projects we can share with you.
For more information on the benefits of using Ashanti as your local DMC
Destination Management Company
Risk Assessment and Safety Planning
The most important aspect of any group we host here in Ghana is undoubtedly safety of participants and assessing the risks of all aspects of the trip ensuring everyone returns home safely after an exceptional experience.
It is important we comply with the law and ensure we operate legally. Meticulously looking into all elements of the proposed trip to identify hazards, evaluating these, and taking the necessary precautions is an important part of our pre trip planning. Local up to date knowledge, evacuation plans, vehicle safety checks, medical kits, competent staff, 24/7 emergency contacts are just a small selection of the measures we take. In addition, all our local leaders and guides have passed advanced first aid training and are certificated by the West African Rescue Association.
For more information on the benefits of using Ashanti as your local DMC
Pre and Post Trip Support
From the moment you first contact us to after you have returned home, we are on hand to advise and support you in all aspects of your proposed travel to West Africa.
Our travel team are always on hand and happy to assist in any capacity, from advice on travel insurance, visas, vaccinations, essential packing list, cultural orientation, flights and much more. Never feel you are disturbing us with too many emails, it is our job to ensure you are well prepared prior to travel and then all you have to do is sit back, relax and enjoy the experience.
For more information on the benefits of using Ashanti as your local DMC
Destination Management Company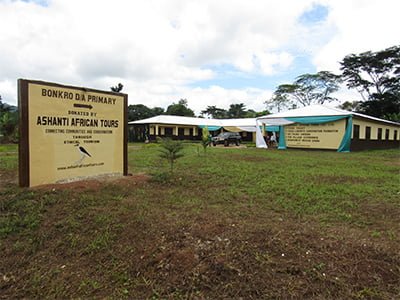 Environmental and Community Service Coordination
Ashanti African Tours take our environmental and social responsibility very seriously which can be seen through the many projects we have established and funded here in Ghana.
If you already have a service programme you would like to incorporate into your time here, we are on hand to make all the connections and arrangements for you. Alternatively, you are welcome to choose one of our many projects we have established that range from education, construction, environmental conservation, health, sport, agriculture, and youth training programmes. To date Ashanti have donated over $135,000.00 USD to our conservation and community connection projects. Our wide selection of projects has something for everyone, if you want to be part of a reforestation project planting indigenous trees, helping train locals in beekeeping, building hand washing facilities for schools or constructing a medical centre for communities in need the options are endless.
For more information on the benefits of using Ashanti as your local DMC
Choose Ashanti for your professionally organised, expertly led, locally guided authentic tours of West Africa that benefit locals and the environment
Destination Management Company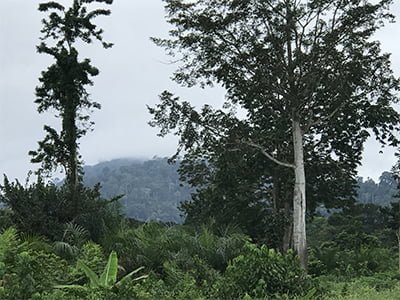 Local DMC with a Real Sense of Purpose
Ashanti would like to think most international tour operators that send groups to West Africa care about the locations they visit and about having a positive impact during their time here.
Booking with a responsible travel company goes a long way to achieving this. Many companies state they benefit locals and conservation when they do extraordinarily little and are more focused on their profit margins. Ashanti are West Africa's leading travel company putting their profits back into building schools, protecting wildlife, rainforest, biodiversity and connecting communities to the conservation of their environment through community development initiatives connected to eco-tourism. Click to learn more about where our profits go.
For more information on the benefits of using Ashanti as your local DMC
We Offset Your Trips Carbon Footprint
We plant 3 indigenous forest tree species for every tour participant that travels with us.
The main aim for this project is carbon offsetting – guests choosing to travel with us would offset their flights to/from Ghana by more than 15 times if the trees live to their expected lifespan. This is based on projected carbon dioxide generated on a return flight for the average guest (approximately 900kg/1980 lbs). The average tropical tree can absorb approximately 48lbs of carbon per year (when mature) and in Ghana it takes 30-50 years for a tropical tree species to grow to maturity, with an average life expectancy of 200-300 years. If the trees we plant for each guest are continued to be protected, then we are confident that we will be making a big difference in carbon offsetting: 3 trees planted would each absorb approximately 10,080 lbs of carbon, totalling 30,240 lbs/13,745 kg for all 3 trees (per guest).
For more information on our sustainability and environmental stewardship
Exceptional West African travel experiences that have a real sustainable impact in the locations and communities we visit