West Africa's Premier Travel Company
Building schools, protecting rainforests, having a sustainable positive impact locally.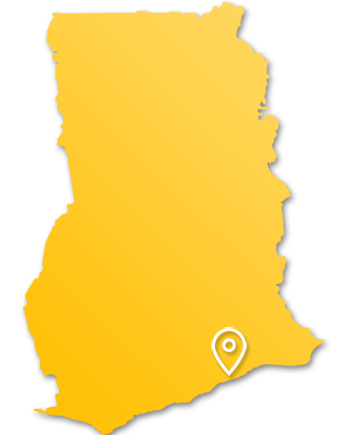 Ghana
Population – 31,038,800
Language – English
Currency – Ghanaian cedi
Time Zone – GMT
Capital – Accra
Ashanti have a passion for welcoming members of the African diaspora home to experience their ancestral culture and history, whilst supporting them to grow personal roots back to their motherland.
Ghanaians are keen to build bridges and welcome with open arms all people of African descent which was evident during the Year of Return when we remembered the 400-year anniversary of the fist slaves taken from our shores to America. It is a privilege when we are chosen to be part of your spiritual journey of reconnection. Our experienced travel consultants and award-winning local expert guides are enthusiastic to start working with you in creating memories and connections that will last a lifetime. Our expertise is designing customized tours for individuals, couples, families, small and large groups maximizing the traveller experience. If you would prefer to travel with other likeminded people, then check out our wide selection of scheduled heritage tours that operate year-round.
Our Price Promise
If you receive cheaper quotes from other legitimate companies, we will try to match or improve the price for the exact same tour package offered.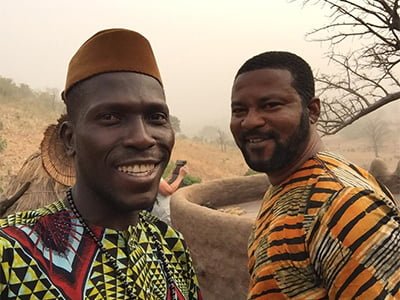 Award Winning Local Guides
Our passion is to create the best overall experience for our guests during their time touring with us.
One of the key components to achieving this is the local expert guide assigned to lead your tour. Here at Ashanti we are lucky to have highly educated, passionate, personable, fun, friendly and professional local award-winning guides working with us on a full-time basis. Local guides with personal connections to the locations you visit, opens doors and experiences that add so much more to your overall experience during your time with us. Our team are excited to welcome you to West Africa.
For more information on our local Award-winning Cultural Heritage Tour Leaders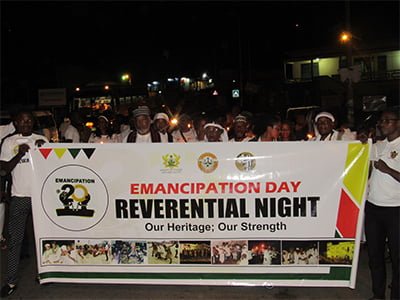 Panafest and Emancipation Tours
The Pan-African Historical Theatre Festival (Panafest) is a biennial festival of music, poetry, art, theatre, and dance that promotes pan Africanism, unity and development in Africa.
This cultural event held for Africans and people of African descent takes us on a journey through the traumatic history of the slave trade, issues raised by slavery and its aftermath spanning over 400 years. Ghana's coastline is dotted with memorials to this tragic period and we will be part of traditional durbars of chiefs as we bring people from Africa and the African diaspora together. Join one of our scheduled Panafest and Emancipation Tours, alternatively allow us to customize a tailor-made tour for you.
For more information, itineraries and prices for our Panafest and Emancipation Tours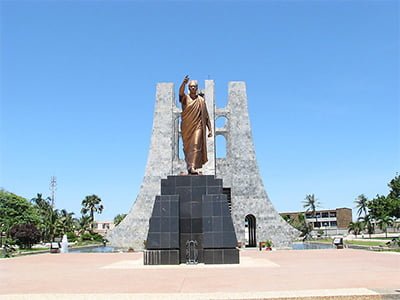 A celebration of our Pan-African heroes and the sacrifices and contributions they made and continue to make in past and present African and American history.
Visiting the many now silent memorials along the Ghanaian coastline, museums and other important edifices as we learn about the cultural and political achievements of so many great Africans. Hearing the struggles towards emancipation and the civil rights movement as we travel through Ghana reconnecting with our cultural heritage. Your trip your way! Our team would be excited to customize a tailor-made Black History Tour for you.
For more information, itineraries and prices for our Black History Tours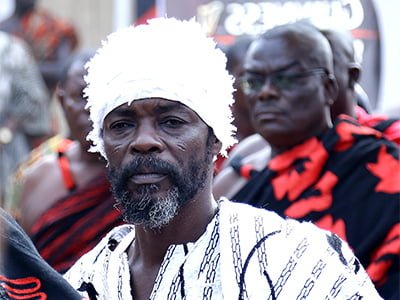 Back to your Roots (Sankofa) Tours
Today we find members of the African diaspora all over the world from the Americas to Europe and beyond, all a consequence of the tragic slave trade era spanning more than 400 years.
Most people of African descent can trace their African heritage back to West Africa and Ghana. Over 70% of the forts and castles that were converted or built to hold slaves were located along Ghana's coastline, it is likely many of the African diasporas ancestors either came from or passed through Ghana at some point in history. Our guides are passionate about connecting you to your cultural ancestral heritage, sharing historical information that could give you more information on your background.
For more information, itineraries and prices for our Sankofa Return to your Roots Tour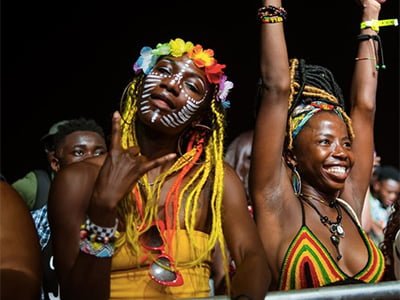 Afrochella and Full Circle Tours
If you like to party as much as we do then our Afrochella and Full Circle Festival Tours are perfect for you.
A celebration of our African culture as we enjoy live performances from some of Africa's greatest musicians, street art, local cuisine, fashion, entrepreneurship and much more. Exciting, fun packed itineraries mixing nightlife with the spiritual connection of our ancestral history as we learn about the slave trade visiting cultural heritage sites and monuments. Join one of our scheduled Afrochella and Full Circle Tours, alternatively allow us to customize a tailor-made tour for you and your group.
For more information, itineraries and prices for our Afrochella and Full Circle Tours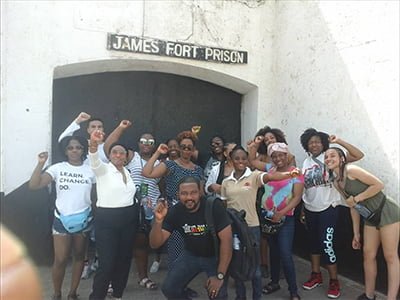 Customized Tailor-made Heritage Tours
Ashanti's strength is designing customized tailor-made cultural heritage tours incorporating any areas of interest you may have.
If you are an educator, solo traveller, couple, family, friends or a travel agent arranging a group then allow our experienced team to design that perfect trip focused on the exact areas important to you. Organizing voluntary work, church visits and visiting some of the educational institutions here is something we are experience at. Having so many local guides experts in such a wide range of areas enables us to offer a varied tour portfolio. Tours of any duration and to fit all budgets ensuring the perfect combination for you.
For more information, tailored itineraries and prices for our Customized Tailor-made Heritage Tours
If you are looking to join a small group, then our scheduled Ghana Heritage Tours are perfect for you.
Tours operate year-round and we focus our time visiting the important monuments, museums, and cultural heritage sites of interest as we take you on a journey of connection and discovery. Our expert local guides are passionate to connect you to your cultural heritage and gain more insight into your ancestral background. Travelling with likeminded people, sharing experiences, and making friends for life are all benefits of joining one of our small group tours. Joining a group can also make your heritage tour more affordable than a private tailor-made trip.
For more information, itineraries and prices for our Scheduled Heritage Tours
Traditional Naming Ceremonies
Be the guest of honour to receive your true African name based on the day of the week you were born, during a celebration of your life in front of chiefs and community leaders during all our Ghana Heritage Tours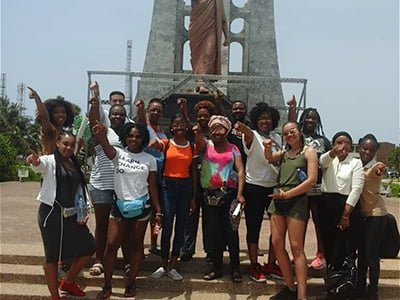 Destination Management Company
Many International Travel Agents and Tour Operators use our services for their tours here in Ghana, Togo, and Benin.
Our client confidentiality policy means we do not discuss any of our clients with third parties. Our company hold all the required licenses and insurance policies to accept international tourists here which is not the case for many companies operating from Ghana. Each company that use our services, guides and vehicles have their own unique way of conducting their tours, our strength is the ability to adapt to each companies way in addition to designing customized tour itineraries ensuring they offer something different to their competitors. Our clients tour participants are always happy to learn that the company they travel with care about the location they are visiting by using a local DMC whose profits go towards building schools and helping locals. Contact us to see the many benefits of having us as your preferred West African DMC.
For more information on the benefits of using Ashanti as your local DMC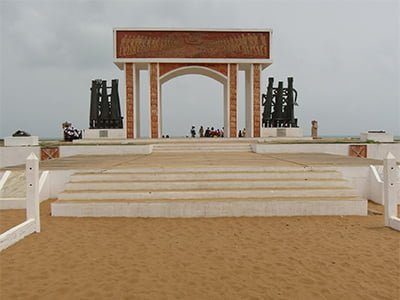 Multi Country Heritage Tours
Our local award-winning guides come from all over West Africa and have an in-depth knowledge and understanding of this region.
Local customs and beliefs vary significantly the more you travel, and each country has its own distinct history. Togo and Benin are both very narrow countries, and this enables them to be easily incorporated into a multi country tour with Ghana. Senegal also has good international flight links with Ghana and can also be incorporated into a customized cultural heritage tour for you. If you have a desire to experience more of West Africa during your time here, then contact us to see the options available.
For more information, itineraries and prices for our Multi Country Heritage Tours
African Heritage Educational Tours
If you are an educator at a school, college or university looking to bring students to West Africa to learn and experience cultural heritage and history then our educational tours and study trips are perfect for you.
Our strength is the ability to focus on your needs and design quality, safe, customized trips ensuring you and your students get the most from your time here with us. Educational exchange programmes, cultural exchange programmes, community service trips and rural immersion programmes are just a selection of the services we can offer you. Ashanti African Tours are fully insured to accept international students and we take our safety and risk assessment planning very seriously. Make your study trip hassle free and allow us to offer you the provision of all destination management services you will need during your time here in West Africa.
For more information, itineraries and prices for our African Heritage Educational Tours
Year of Return to Beyond the Return
In 2019 Ghana opened our arms to welcome home our family from the African diaspora after 400 years of pain and now is the time to continue our reconnection looking forward Beyond the Return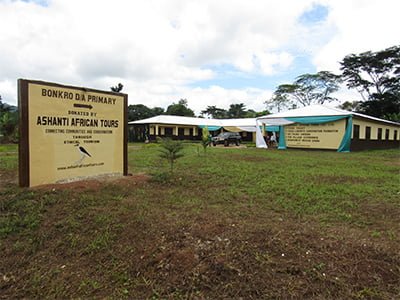 Building schools, protecting rainforest, having a sustainable positive impact locally
Ashanti would like to think most travellers care about the locations they visit and about having a positive impact during their time in each destination.
Booking with a responsible travel company goes a long way to achieving this. Many companies state they benefit locals and conservation when they do extraordinarily little and are more focused on their profit margins. Ashanti are Ghana's only travel company putting their profits back into the communities we visit building schools and establishing youth training programmes for locals that did not have the opportunity for an education. Click to learn more about where our profits go.
For more information on how our profits help people and communities locally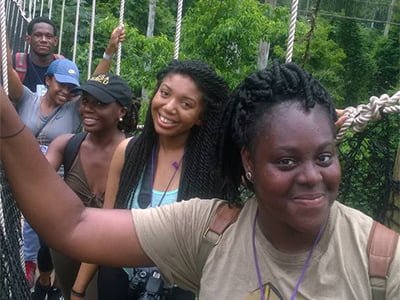 We Offset Your Trips Carbon Footprint
We plant 3 indigenous forest tree species for every guest that travels with us.
The main aim for this project is carbon offsetting – guests choosing to travel with us would offset their flights to/from Ghana by more than 15 times if the trees live to their expected lifespan. This is based on projected carbon dioxide generated on a return flight for the average guest (approximately 900kg/1980 lbs). The average tropical tree can absorb approximately 48lbs of carbon per year (when mature) and in Ghana it takes 30-50 years for a tropical tree species to grow to maturity, with an average life expectancy of 200-300 years. If the trees we plant for each guest are continued to be protected, then we are confident that we will be making a big difference in carbon offsetting: 3 trees planted would each absorb approximately 10,080 lbs of carbon, totalling 30,240 lbs/13,745 kg for all 3 trees (per guest).
For more information on sustainability and environmental stewardship
Our small group all-inclusive scheduled tours operate year-round, alternatively we can design private customized tours for individuals, couples, families, small or large groups