West Africa's Premier Travel Company
Building schools, protecting rainforests, having a sustainable positive impact locally.
Fully supported service trips for students, families, couples, individuals, small and large groups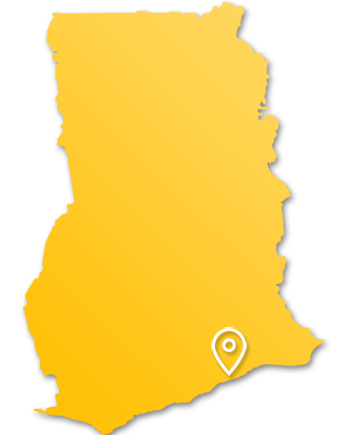 Ghana
Population – 31,038,800
Language – English
Currency – Ghanaian cedi
Time Zone – GMT
Capital – Accra
The foundations of our travel company are built on a strong sense of purpose that dictates everything that we do.
Offering service trips with real impact locally here to students, couples, families, individuals, small and larger groups is so important to our aims and objectives. Fully supported ethical journeys in a multitude of areas identifying the right expedition for our participants ensuring you and your chosen project get the most from your time here with us. Ashanti have several project sites in areas across Ghana that are in real need of support and each project offers the opportunity to work in a wide range of areas from environmental to construction, agriculture to teaching, health to wildlife surveys, community service to sports and much more. Projects spread across Ghana from coastal fishing communities to villages surrounded by tropical forests and endangered wildlife, our extensive portfolio of service trips will have the perfect fit for you.
Our Price Promise
If you receive cheaper quotes from other legitimate companies, we will try to match or improve the price for the exact same tour package offered.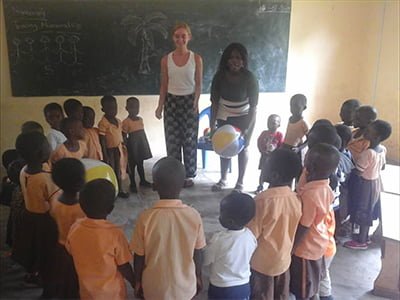 Fully supported by our passionate team
The Ashanti team here are fully focused on our company ethos of Purpose Before Profit and are excited to support you every step of your way from the initial planning stage to your departure after an exceptional experience.
From the moment you first contact us to after you have returned home, we are on hand to advise and support you in all aspects of your proposed travel to West Africa. Our travel team are always on hand and happy to assist in any capacity, from advice on travel insurance, visas, vaccinations, essential packing list, cultural orientation, in country coordination and support, flights and much more. Never feel you are disturbing us with too many emails, it is our job to ensure you are well prepared prior to travel and then all you have to do is sit back, relax and enjoy the experience.
For more information on our project coordinators
Ghana Environmental Service Expeditions
If like us, you have a passion for our planet and would like to do all you can to have a positive impact in conservation then our Environmental Service Expeditions are perfect for you.
Our project locations are all in the heart of the Upper Guinea Rainforest belt in remote communities living with nature on their doorstep. Reforestation projects planting indigenous forest tree species, community conservation outreach programmes, environmental impact surveys, mammal, bird, reptile, amphibian and butterfly surveys, wildlife viewing hide construction, forest trail maintenance for responsible tourism, bridge construction over forest streams and rivers, research camp construction and maintenance, wildlife camera trapping, eco-tourism construction and maintenance are just a selection of activities you could be involved in if you choose one of our environmental service expeditions.
For more information, itineraries and prices for our Ghana Environmental Service Expeditions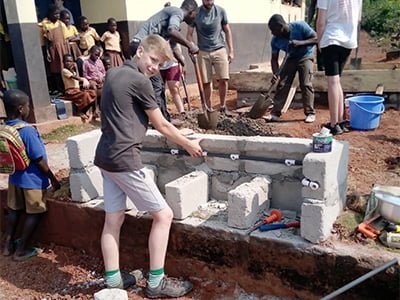 Ghana Community Service Expeditions
Connecting you to real people and working on real issues in Ghana ensuring you have a positive impact at your chosen project during your limited time here with us.
Our community service expeditions focus on helping all areas of community life from youth training to sanitation, household maintenance to equality education, solar power initiatives to provision of clean water, community centre construction to plastic and waste reduction, youth centre establishment and community and conservation connection initiatives and much more. Experience authentic cultural connections and say goodbye to your comfort zone whilst challenging yourself, learning what you can achieve. Rewarding experiences returning home having left a real sustainable positive impact.
For more information, itineraries and prices for our Ghana Community Service Expeditions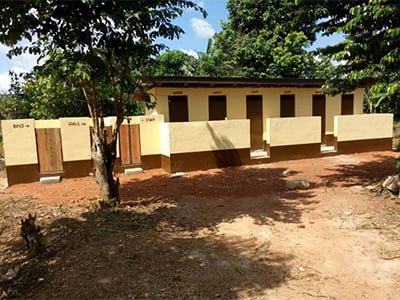 Ghana Construction Service Expeditions
You do not have to have experience in construction to join one of our construction service expeditions as our support team who are with you every step of your journey are qualified, builders, carpenters, plumbers, roofers and electricians.
Learning new life skills whilst having a real impact on your chosen project, you will not be asked to do anything beyond your capabilities. Our construction project locations range from coastal fishing communities, remote farming villages and settlements surrounded by tropical rainforest and wildlife. Projects include building hand washing facilities and toilets for schools, water storage towers, medical centres, nurse and teacher accommodation, primary, junior high and secondary school buildings, accommodation for tourists at community eco-tourism initiatives and ongoing maintenance on existing projects.
For more information, itineraries and prices for our Ghana Construction Service Expeditions
Ghana Sports Service Expeditions
Participation in sport is so important for the mental wellbeing and healthy development of any young person and you can make a real impact by being part of our sport volunteer programmes.
Introducing new ideas and different team and individual sports to communities that have not previously been exposed to them is an exciting and fun way to spend your time here with us. Its not just about kicking a ball, our sport expeditions aim to establish the foundations for continued development of the sports you introduce or support. Establishing teams, organising leagues and regular training regimes whilst identifying local coaches giving them the tools to continue with the sport development long after you return, ensures your time has been useful.
For more information, itineraries and prices for our Ghana Sports Service Expeditions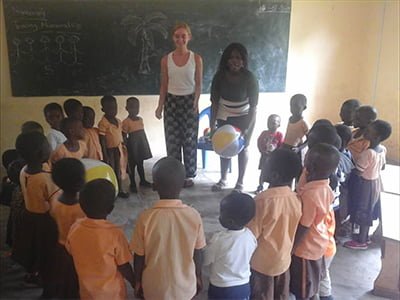 Ghana Teaching Service Expeditions
Teaching placements have a real impact at our projects and we require the volunteer to be qualified in the subject they would like to teach as they work with the local teachers supporting them and their curriculum.
If you are not qualified or are one of our student groups wanting to assist in our teaching service expeditions, we can still offer the opportunity for you to assist in a fun, relaxed environment where you can practice English phrases and offer informal conversational English. It is important you have a dedicated, focused attitude and a good level of spoken and written English to ensure you have a real impact in these placements. Supporting children at different stages of education from kindergarten, primary, junior high to secondary school depending on your qualifications and the need of your chosen project. From English to maths, science to art, geography to history, physical education to music all areas of the curriculum in the schools we build and communities we work in need support. Our teaching service expedition locations range from coastal fishing communities, remote farming villages and settlements surrounded by tropical rainforest and wildlife.
For more information, itineraries and prices for our Ghana Teaching Service Expeditions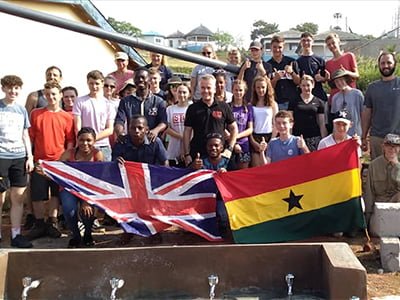 Ghana Health Service Expeditions
The sad reality in many rural locations in Ghana is the obvious lack of medical facilities to service the public.
Several easily rectified less serious conditions that are left untreated have a significant negative effect on the daily lives of many locals. Community health is a primary focus on our Ghana health service trips working alongside and supporting local health authorities in their work. If you are a medical professional and depending on your area of expertise it is possible for us to organise community outreach programmes. For example, if you are a qualified Ophthalmologist then we can arrange community eye testing, giving prescriptions enabling locals to get glasses to improve their vision. Opportunities are also available for non-medically trained volunteers who can assist in many other areas that include the distribution of sanitary supplies for female students or first aid kits for schools.
For more information, itineraries and prices for our Ghana Health Service Expeditions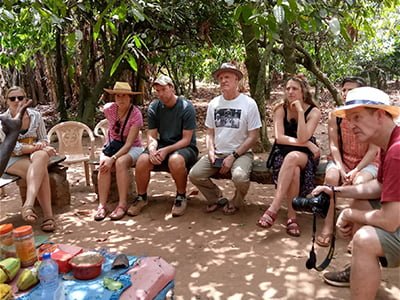 Ghana Agricultural Service Expeditions
The world is losing its rainforests and wildlife habitat at an unsustainable rate and one of the major causes of this deforestation is governments, businesses and locals cutting the trees for farming.
This conflict between farming and forests is no exception here in Ghana with cocoa and palm plantations being the biggest culprits. One of our main aims at our project locations here in Ghana is to offer local farmers an alternative product to farm that encourages conservation of our forests and requires an intact ecosystem to thrive. If you are concerned about global deforestation, then our agricultural service expeditions are a perfect way for you to make a positive impact in an area you are passionate about. Helping our team to Introduce environmentally friendly farming alternatives like beekeeping for honey production and snail farming which is an expensive local delicacy will ensure you return home having made a real difference.
For more information, itineraries and prices for our Ghana Agricultural Service Expeditions
Risk Assessment and Safety Planning
The most important aspect of any group we host here in Ghana is undoubtedly their safety and assessing the risks of all aspects of the trip ensuring everyone returns home safely after an exceptional experience.
It is important we comply with the law and ensure we operate legally. Meticulously looking into all elements of the proposed trip to identify hazards, evaluating these, and taking the necessary precautions is an important part of our pre trip planning. Local up to date knowledge, evacuation plans, vehicle safety checks, medical kits, competent staff, 24/7 emergency contacts are just a small selection of the measures we take. In addition, all our local project coordinators and guides have passed advanced first aid training and are certificated by the West African Rescue Association.
For more information, itineraries and prices for all our Ghana Service Expeditions
Amazing expeditions that create a sustainable positive impact for travellers, locals, and the planet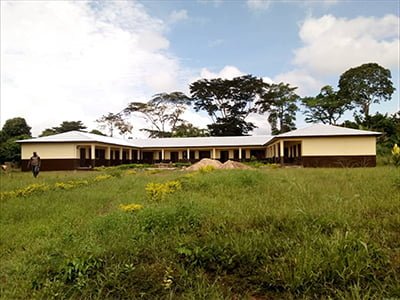 Building schools, protecting rainforest, having a sustainable positive impact locally
Ashanti would like to think most travellers care about the locations they visit and about having a positive impact during their time in each destination.
Booking with a responsible travel company goes a long way to achieving this. Many companies state they benefit locals and conservation when they do extraordinarily little and are more focused on their profit margins. Ashanti are Ghana's only travel company putting their profits back into the communities we visit building schools and establishing youth training programmes for locals that did not have the opportunity for an education. Click to learn more about where our profits go.
For more information on how our profits help people and communities locally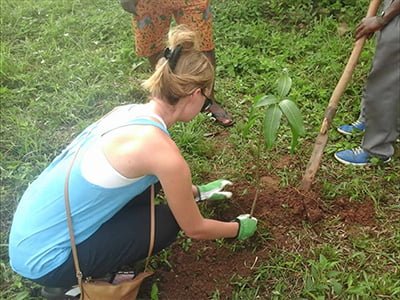 We Offset Your Trips Carbon Footprint
We plant 3 indigenous forest tree species for every guest that travels with us.
The main aim for this project is carbon offsetting – guests choosing to travel with us would offset their flights to/from Ghana by more than 15 times if the trees live to their expected lifespan. This is based on projected carbon dioxide generated on a return flight for the average guest (approximately 900kg/1980 lbs). The average tropical tree can absorb approximately 48lbs of carbon per year (when mature) and in Ghana it takes 30-50 years for a tropical tree species to grow to maturity, with an average life expectancy of 200-300 years. If the trees we plant for each guest are continued to be protected, then we are confident that we will be making a big difference in carbon offsetting: 3 trees planted would each absorb approximately 10,080 lbs of carbon, totalling 30,240 lbs/13,745 kg for all 3 trees (per guest).
For more information on sustainability and environmental stewardship
Our wide selection of volunteer itineraries are specifically designed with the perfect mix of project work, cultural immersion and adventure, creating life changing experiences whilst having a positive impact