Ghana Hiking & Walking Tours
Ghana Hiking & Walking Holidays
West Africa's Premier Travel Company
Building schools, protecting rainforests, having a sustainable positive impact locally.
Ghana Hiking & Walking Tours
The perfect way to see and experience Ghana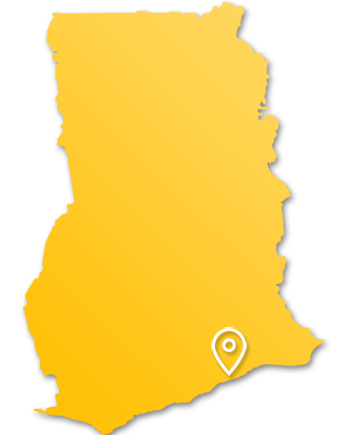 Ghana
Population – 31,038,800
Language – English
Currency – Ghanaian cedi
Time Zone – GMT
Capital – Accra
Known as the gateway to Africa, Ghana's rich and colourful cultural identity still lives on and plays a vital role in everyday life for our people.
The first sub-Saharan African country to gain independence from colonial rule in 1957, Ghana's ethnic diversity, safety and friendly locals make it a must-visit for any traveller wanting to experience West African culture. Traditional festivals and durbars are commonplace and have not changed in centuries. Ghana's beautiful golden beaches, tropical forests, rolling hills our ancient connection with arts and crafts such as Kente, Adinkra, pottery and brass works and not forgetting a rich musical history, ensures the inquisitive traveller will not be disappointed. The stark contrast between the northern and southern cultures is diverse and compelling. Choosing one of our tours and immersing yourself in Ghana's diverse culture and traditions is an experience that will live with you forever.
Our Price Promise
If you receive cheaper quotes from other legitimate companies, we will try to match or improve the price for the exact same tour package offered.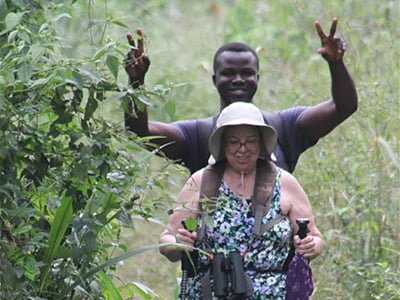 Experienced Local Hiking & Walking Tour Guides
Nothing beats travelling with a local guide, their connections to the locations you visit open doors and experiences that enhance your overall enjoyment during your time with us.
Our hiking and walking guides are experienced in leading tours around Ghana they are fun, professional, personable and will lead the tour at an enjoyable pace. In addition, they all have advanced first aid training and are experts in the flora, fauna and culture of West Africa giving another dimension to your time walking with them.
For more information on our Experienced Local Hiking and Walking Tour Leaders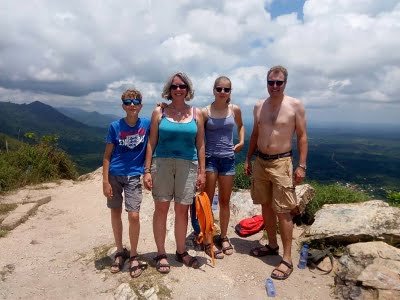 Customized Ghana Hiking and Walking Tours
Scenic coastal roads, undulating tropical hills and off-road forest trails, Ghana has everything you are looking for from a hiking and walking tour.
Our tour planners will customize our wide selection of itineraries to fit your fitness level, budget, and preferred way of travelling. If you prefer dedicating the majority of the day to walking or maybe you would like the split the day between hiking and cultural or wildlife excursions then our team will design that perfect trip for you. Itineraries that hike across country enjoying the varied habitats, others that offer day excursions from a central focal point. Walking routes that enable us to enjoy good standard accommodation each evening or our more adventurous routes where we enjoy more basic guesthouses, village homestays and camping. You choose, your trip your way.
For more information, itineraries and prices for our Customized Ghana Hiking and Walking Tours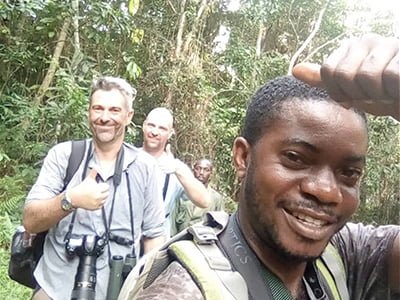 Group Hiking and Walking Tours
If you are a tour operator that offers walking and hiking holidays and you are looking for a competent local ground agent and DMC for your groups.
Or maybe a member of a walking club and would like to arrange a hiking and walking experience on the African continent or even a group of friends or charity looking to raise money doing a sponsored walk in Africa then look no further. Our experienced tour planners will work with you in designing that perfect trip for your group ensuring a safe route and logistical excellence suppling support vehicles and several local guides making the trip run smoothly maximising the enjoyment of all the participants. Our travel team are always on hand and happy to assist in any capacity, from advice on travel insurance, visas, vaccinations, essential packing list, cultural orientation, flights and much more. Never feel you are disturbing us with too many emails, it is our job to ensure you are well prepared prior to travel and then all you do is relax and enjoy the experience.
For more information, itineraries and prices for our Ghana Group Hiking and Walking Tours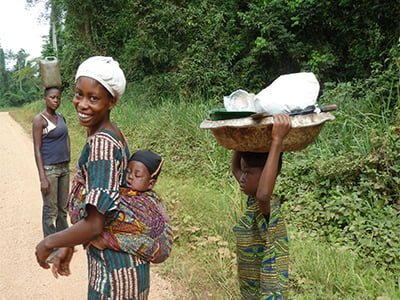 Fully supported, professionally organised, safe, fun, quality and adventurous hiking and walking tours of Ghana is what we are focused on offering here at Ashanti African Tours.
Our tours offer the service of support vehicles when needed, transporting luggage to hotels and for use for participants that need them. Due to many of our hiking and walking tours taking us to remote seldom visited locations all our tour guides hold advanced first aid training certificates from the West African Rescue Association. Our local knowledge of walk times and safety issues is imperative, and our company offer 24/7 emergency contact support. Our office team support in the smooth running of our tours ensuring hotels and guesthouses are prepared for our arrivals, know our estimated arrival time and that meals are not delayed.
For more information, itineraries and prices for our Ghana Hiking and Walking Tours
Walking and Hiking gives you the opportunity to immerse yourself in the communities and landscapes of the locations you visit offering the perfect way to discover Ghana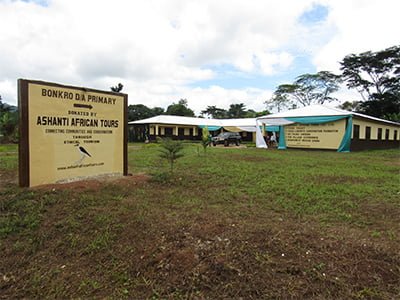 Building schools, protecting rainforest, having a sustainable positive impact locally
Ashanti would like to think most travellers care about the locations they visit and about having a positive impact during their time in each destination.
Booking with a responsible travel company goes a long way to achieving this. Many companies state they benefit locals and conservation when they do extraordinarily little and are more focused on their profit margins. Ashanti are Ghana's only travel company putting their profits back into the communities we visit building schools and establishing youth training programmes for locals that did not have the opportunity for an education. Click to learn more about where our profits go.
For more information on how our profits help people and communities locally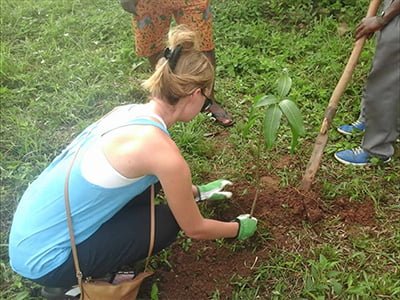 We Offset Your Trips Carbon Footprint
We plant 3 indigenous forest tree species for every guest that travels with us.
The main aim for this project is carbon offsetting – guests choosing to travel with us would offset their flights to/from Ghana by more than 15 times if the trees live to their expected lifespan. This is based on projected carbon dioxide generated on a return flight for the average guest (approximately 900kg/1980 lbs). The average tropical tree can absorb approximately 48lbs of carbon per year (when mature) and in Ghana it takes 30-50 years for a tropical tree species to grow to maturity, with an average life expectancy of 200-300 years. If the trees we plant for each guest are continued to be protected, then we are confident that we will be making a big difference in carbon offsetting: 3 trees planted would each absorb approximately 10,080 lbs of carbon, totalling 30,240 lbs/13,745 kg for all 3 trees (per guest).
For more information on sustainability and environmental stewardship
Booking a tour with us makes you an important part of our positive impact conservation projects, having the option to visit the rainforests and communities your trip helps protect is a special moment for many of our participants